Big data sees Dublin Airport mobile passenger experience soar
Original article ComputerWeekly
The owner and operator of Dublin and Cork Airports, DAA, has turned to enterprise mobile app platform developer FeedHenry – now part of Red Hat – to expose more data about its day-to-day operations to passengers through an updated mobile app solution.
With 70,000 passengers passing through Dublin and Cork Airports every day and more than 20 million a year, DAA has undergone a major evolution in recent years, establishing itself as a mini-transit hub, opening a new terminal at Dublin Airport, and becoming one of only two airports outside the US and Canada to offer pre-clearance services for US Immigration – the other being Shannon, also in Ireland.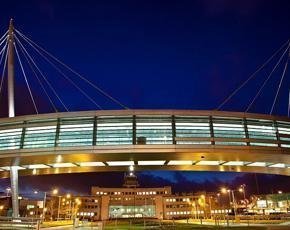 The organisation had previously launched a mobile app for iOS, which was well received at the time. However, as John Sisson, commercial product development manager at DAA explained, the original app did not include support for Android, and was ageing quickly.
"We didn't invest in it to maintain development and it wasn't long before our ratings fell," he says. "We made a decision to revisit it, this time including Android, and Cork Airport. We learned from our mistakes and started over."
Backend integration for multiple services
The airport authority wanted to create a more engaging travel app, giving passengers passing through the airports access to a much wider set of data to improve their experience.
After a public tender process, FeedHenry was selected to deploy its open, cloud-based mobile backend-as-a-service (MBaaS) to act as a secure layer between the various data repositories and the new mobile app.
It had to integrate into a number of systems to pull together all the data that DAA wanted to show passengers, including the Active Flight Query Service, Queue Management Service, the retail CMS and live National Transport Authority data, as well as popular aircraft tracking service Flightradar24.
The data that can now be delivered to passengers includes, among many other things, parking services and public transport to and from the airports, live flight departure and arrival information, check-in services, estimated time to clear security, shopping and restaurant information, and weather reports for destinations.
Read more about mobile app development
"Lots of other airports are less transparent with customers on their experience and scheduling, and we wanted to counter that and expose as much data as possible," said Sisson.
DAA also wanted to provide a richer user experience by including the ability to push updates to passenger devices if, for example, there was a change to a flight schedule. It used business logic in FeedHenry's platform to manage and update content, translate incoming data and ensure that the information pushed out was timely, correct, and did not overload devices with intrusive notifications.
The platform was integrated with live messaging services, SOAP, XML, RESTful APIs, JSON, the airport parking system and API integrations to the CMS, as well as social media integration.
Meanwhile, MBaaS caching and data persistence layers allow the app to return and display information much more quickly, while the Node.js-based platform enabled rapid development and code reuse, which meant DAA could also deploy essentially the same product at Cork.
Novel mobile services
The net result, said DAA, has been to vastly increase what passengers can use their smartphones for at every step of their journey, both Dublin and Cork.
Some of the more novel features dreamt up by the developers include click-and-collect retail, enabling passengers arriving in Ireland to buy duty-free goods and pick them up on departure, and geo-tagging services for passengers using the car parks.
In this scenario, passengers can use the app to photograph and tag their car when they drop it off, and then find their way back to it when they return from their trip jetlagged.
DAA said both feedback and usage figures had been very impressive, and it is already considering future plans based around the FeedHenry MBaaS platform to enrich the customer service apps while also opening up the possibility of developing new apps to support employees, emergency services, business partners and airport tenants.
Sisson is also evaluating future additions to the service. The authority is currently working with Google to map all the internal public areas of its two campuses, and intends to introduce Wi-Fi triangulation to help passengers navigate their way through the airports. This will be layered into the application to provide a seamless wayfinding solution from kerb to gate, said Sisson.
DAA also hopes to deploy GPS tracking units on airport shuttle buses, enabling a new module on the app that would show passengers using long-term car parks how long they will have to wait for terminal shuttles.